Hey everyone,
At the end of the last Electronics Let's Play stream I promised that I will commit the USB Pmod schematic and post it here for discussion. It took longer than I expected but here we go.
As I explained at the beginning of the stream the design goals are:
Provide electric connection of a USB-A and/or USB-C interface to an FPGA.
Allow the use of the connectors individually as well as passthrough for sniffing/analysis applications.
Be able to serve as source and sink devices.
Allow the use of Luna USB core and the ViewSB USB analysis software stack.
This is how the schematic looks like at the moment: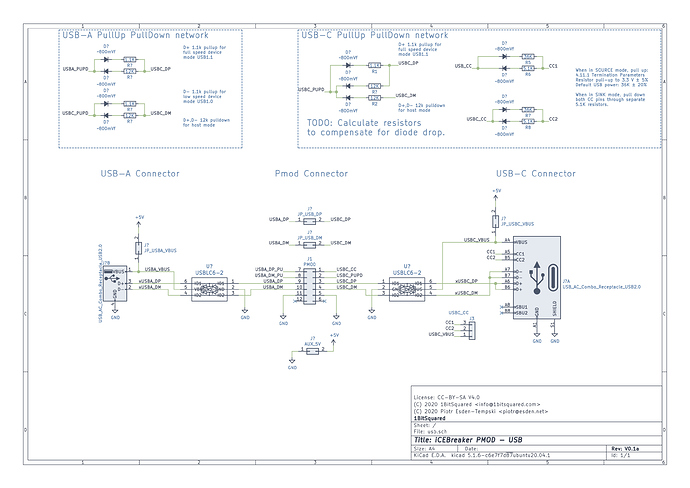 You can find the design files in the icebraker-pmod GitHub repository.
Credit goes to Kate Temkin for the idea and direction. For reference here is her napkin schematic: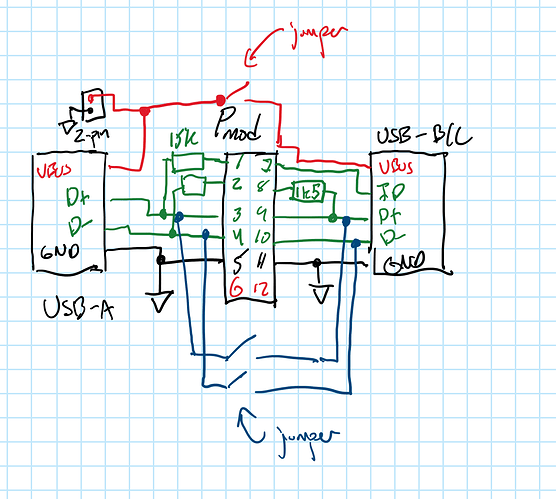 And I have lifted the pull-up/-down networks from Konrad Beckmann's USB Pmods that you can find here: https://git.xil.se/kbeckmann/pmods/src/branch/master/usbc_pmod/usbc_pmod.pdf
Since the stream it has been pointed out on Discord that we should reassign one of the pins used for the USB-A connector pullups to the USB-C connector. It is more useful to have USB LowSpeed pullup capability on the USB-C connector than on the USB-A connector that should only be used as an upstream port.

If you have any additional suggestions and ideas. Let me know. I will keep updating this thread as we make progress with this project.

Cheers,
Piotr