Hey everyone,
In this topic I would like to talk about my plans and progress regarding some LED Panel shenanigans I am working on.
As it turns out the iCEBreaker is a really good FPGA board to drive commonly available LED Panels with the HUB75E interface.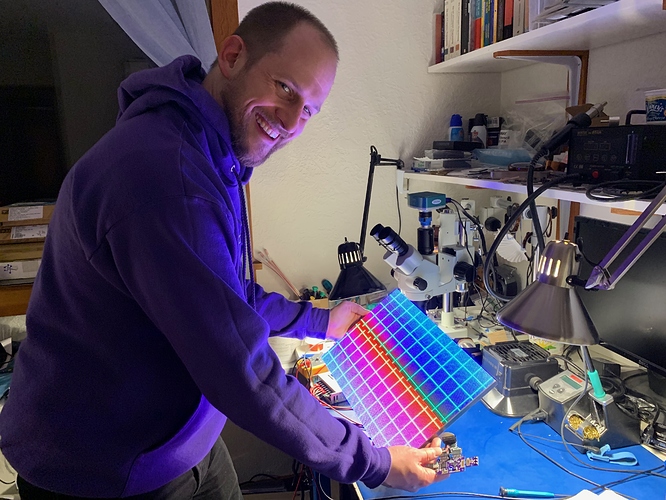 As you might have read in the iCEBreaker Crowd Supply Campaign, there are several LED panel driver logic design for the iCEBreaker already.
My current goal is to continue work on the @tnt rgb_panel design. It provides three modes of operation:
Flash playback
Racing the beam
USB streaming
I hope to put things together in a way that we can include it as one of the icebreaker-fpga github organization repositories, with all the needed documentation and software. The end result should be the ability to get going as fast as possible, and play your own GIFs, videos and demos on your LED panel.
There are a bunch of bits and peaces besides the main repository of @tnt that need to be tidied up and combined.
WIP C implementation of a video streamer command line tool that needs to be finalized.
Python streamer script improvements @tnt made during 35C3 that need to be merged into the main script.
Converting my "how to use it gist" into a proper repository README.md…
And probably more.
So stay tuned, I will be keeping updating you on the project progress here.

Cheers,
Piotr